Dixons
sustainable tree management mission
Would you like more information?
Dixons Sustainable Tree Management Mission
Our mission is to install habitat boxes in as many schools as possible in the Blue Mountains, Western Sydney and Hawkesbury regions throughout 2022
Installed by Professional Arborists
Provides a stable microclimate
Suits a wide range of species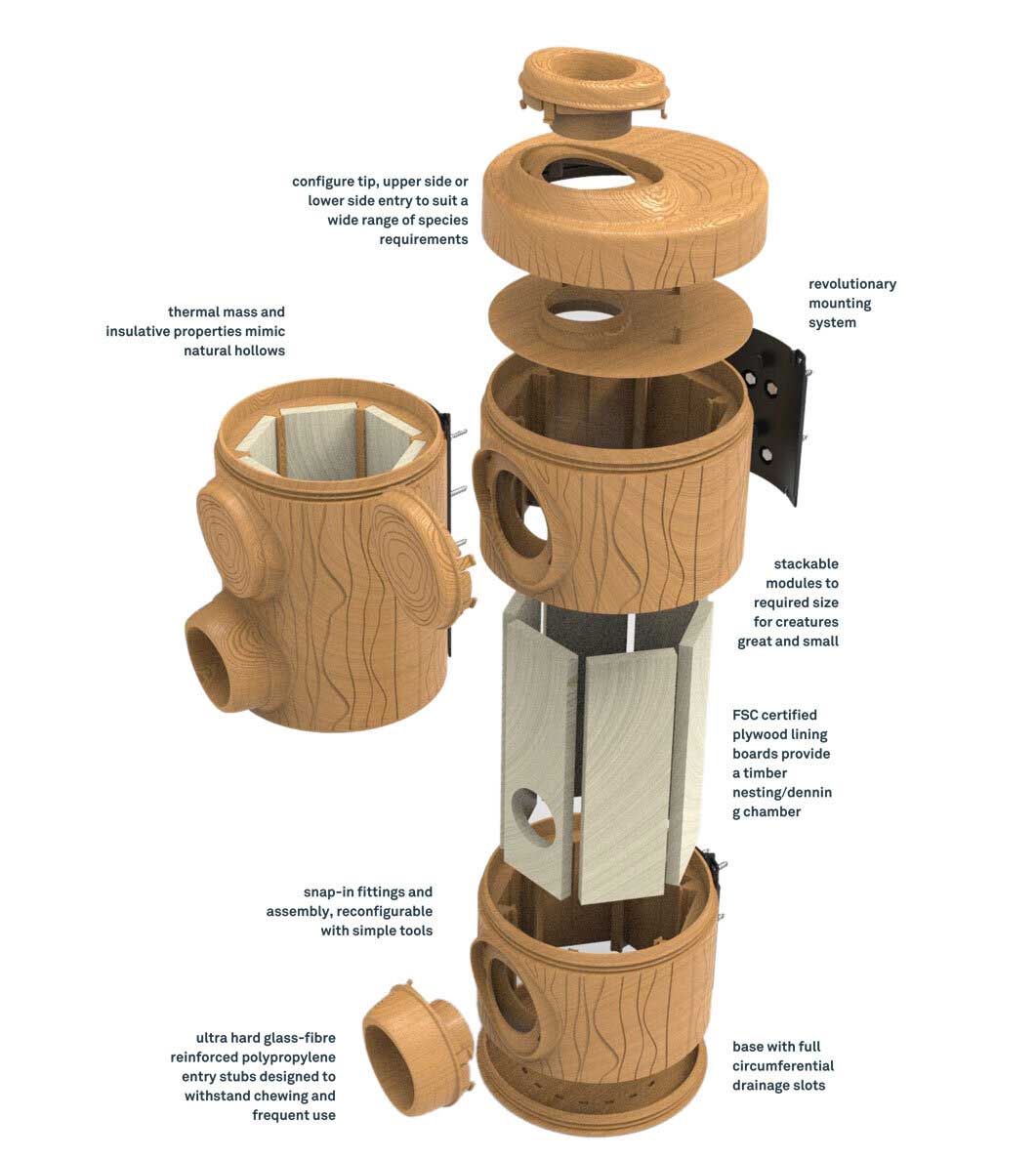 Unlike traditional timber nest boxes, our nest boxes are built for the natural world with organic shapes, textures and structures that mimic the physical and thermal properties of the natural hollows that they supplement.
Our nest boxes are completely modular with customisable entrances able to be installed via the top, upper side or lower side to support the needs and habits of a wide range of species. The modular system allows for multiple body sections to be joined to create different size chambers that can cater to small species such as microbats through to medium-large sized parrots.
Novel forms and materials ensure long service life far exceeding traditional nest boxes. Moulded UV-stablised polypropylene sections are extremely durable and have stable thermal properties. They are double walled for temperature and humidity control, have FSC certified timber panels in the nesting/denning chamber, are recyclable and consist of full circumferential drainage slots. Our nest boxes come with a revolutionary new mounting bracket system from 100% recycled material that bonds to the host tree.
Interested in a nest box for your school?
Approximately 300 native species of birds, mammals, reptiles and amphibians use tree hollows in Australia. 26 species of birds and mammals that are hollow dependent are listed as threatened under federal legislation. In NSW alone, 40 species of hollow dependent fauna are listed as threatened under state legislation.
Why do we have a hollow crisis?
Under Australian conditions it takes a minimum of 80 to 120 years for a tree hollow to form naturally. Large hollows can take hundreds of years to develop.
Hollow development is instigated by tree damage and can often lead to tree failure. Things such as limb failure, bushfires, or physical damage allow for decay processes to begin on the heartwood of the tree which leads to hollow development. By its very nature, the natural processes of degradation of heartwood that leads to hollow development can also lead to the failure of the tree.
Between 2000-2017 more than 7.7 million hectares of potential threatened species habitat was cleared across Australia. In 2017 new land clearing codes were introduced in NSW. By August 2019 approvals had been granted for the removal of 288,000 hectares of native vegetation alone, with the volume of illegal clearing occurring unknown. We are faced with a minimum of 100 years of declining hollow numbers before things may improve.
What about  timber nest boxes?
Nest boxes are on average 8 degrees hotter than tree hollows in summer and can reach internal temperatures in excess of 50 degrees. Typically they only last 8-10 years prior to failure.
Timber boxes are used by many common and introduced species, as well as threatened mammals, but in Australia they are rarely used by bird and microbat species of conservation concern.
But can they be part of the answer?
Well-constructed and routinely maintained nest boxes can offer greater longevity in the field. Greater consideration when positioning nest boxes can reduce temperature extremes. Providing timber nest boxes as habitat for even common species in urban and peri-urban environments can have multiple benefits including around public education and engagement with wildlife.
Mounting evidence shows that chainsaw carved hollows provide thermal properties equivalent to natural hollows and are able to successfully provide habitat for a range of species.
Major limitations relate to the size of hollows that can be safely installed and the risk of hollow failure due to the face plate cracking. New technology such as the Hollowhog is making the process of carved hollows more efficient and with a reduced chance of failure.
The solution!
These revolutionary Nest Boxes are:
built for the natural world with organic shapes, textures and structures that mimic the physical and thermal properties of natural hollows

completely modular, with a stackable design and multiple entry configurations to suit a range of species great and small, delivering the diversity of nature

constructed from recyclable moulded UV-stabilised polypropylene and FSC certified timber liners, ensuring long service life far exceeding traditional nest boxes

revolutionary in design with double walls for temperature and humidity control, reinforced entry stubs to withstand chewing and frequent use, full circumferential drainage slots, 

durable made with novel forms and materials and with a mounting bracket system made from recycled materials which bond to the host tree

to be manufactured locally in NSW using injection moulding for the external plastic components, and FSC certified timber for the internal panels
Interested in a nest box for your school?